Farm to Table… a morning at the Ocean City Farmers Market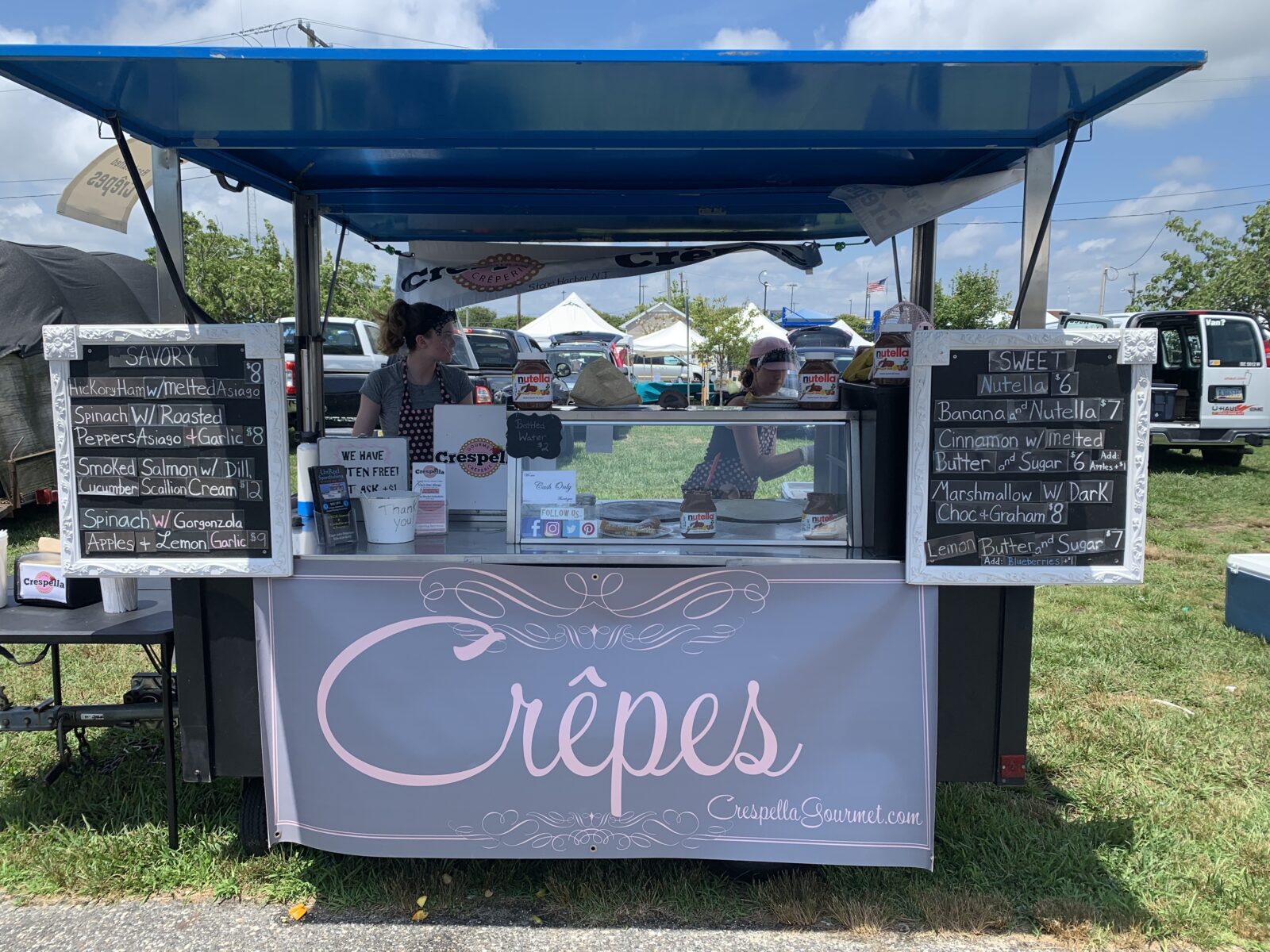 The Farmers Market runs every Wednesday from 8am-1pm on the Tabernacle grounds between 5th and 6th and Wesley.
If you head to the Ocean City Tabernacle Grounds on a Wednesday from 8am-1pm this summer, it'll be hard to go home disappointed. The 80 different Farmer's Market vendors got off to a late start this summer when they began on July 1, but luckily many vendors are back for the summer, and there are still Wednesdays to come.
On a hot day, I craved a cold, refreshing drink that would also kick my sweet tooth in a healthy way. Luckily, one of the first stands I saw was Goji Juice Bar, a juice stand with a shop based in Somers Point.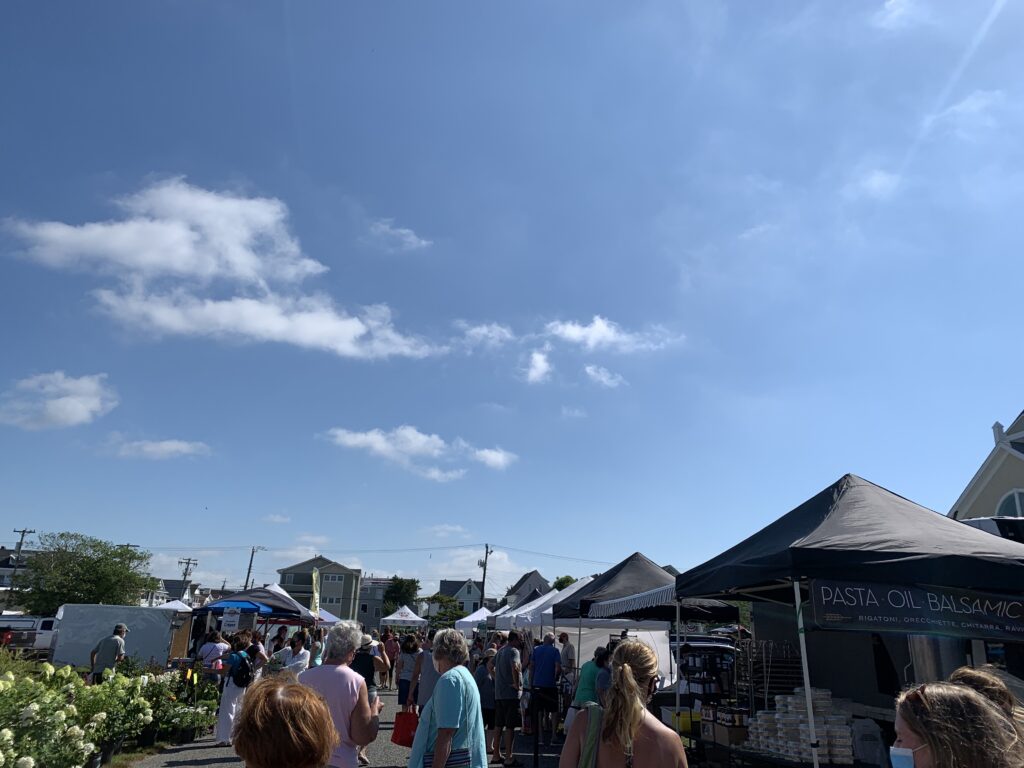 "The morning was great," said Noel from Goji Juice. I chose to order a single-serving kombucha from Noel. Goji's brings a different  kombucha flavor every week, but I was lucky enough to get the Soulshine flavor in a 12oz bottle for $4. "Green tea, black tea, cane sugar, + our signature blend of pineapple, apple, orange, + lemon juice" made my soul shine just a bit brighter that Wednesday. The bright, citrusy combination was cold, bubbly, and just what I needed.
The Farmer's Market has plenty of options in fresh fruit, produce, drinks, clothing, jewelry, prepared foods, etc. The in-season produce looks and tastes the best. Here you can find some soft peaches, the kind that makes sweet peach juice run down your arm when you take a bite. It's even harder to resist the big, red Jersey tomatoes.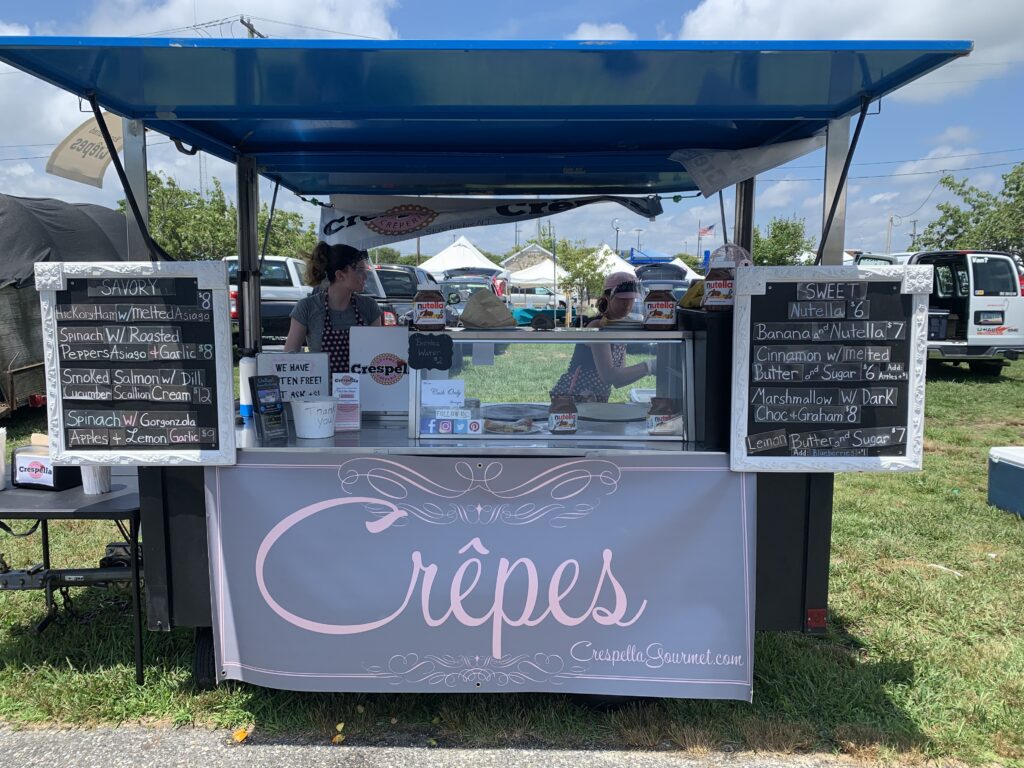 If you're at the market for breakfast, Crespella Gourmet Crepes from Stone Harbor serves a variety of crepes. Savory options are listed on the left, sweet options are shown on the right, and the real show happens in the middle.
"The hot seller today," an employee shared "was the smoked salmon with dill, cucumber, and scallion cream." Crespella prepares the crepes right at the stand by order, so you know you're receiving a fresh product.
Where pizza goes, I follow. Luckily, Tony's Farm Table from Atlantic City has plenty of pizza to go around. They also have handmade pasta and sauces so you can take a slice of Tony's home with you. I chose to have a slice – or rather, a large chunk – of pepperoni pizza. Beware: these slices are huge, but they are packed with flavor. The crust is soft and pillowy like a focaccia bread, the sauce is sweet with tomatoes, and the small pepperonis embellishes the pizza with a smoky spice. Suddenly, the slice doesn't seem so big anymore.
See Also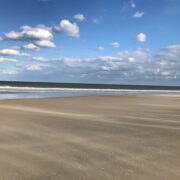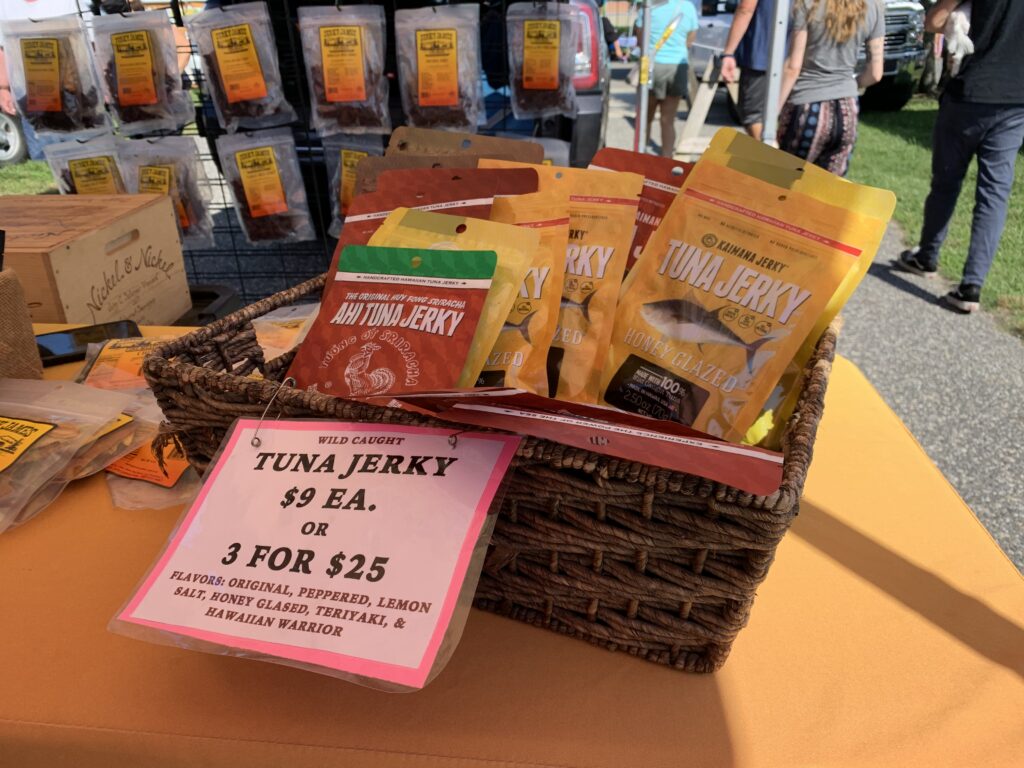 Coming from Northfield, NJ, on the last leg of the food tour, I found Jerky James. On James' website, he is described as "just a guy who loves beef jerky", but he's also a proud United States Marine Corps veteran. Furthermore, he's been an Ocean City Farmer's Market regular vendor for years.
"The market is definitely quieter than previous summers," James commented, but he admitted that his regular customers are still present at the Ocean City market, as well as in Brigantine and Sea Isle City. James sells many different flavors of jerky: beef, chicken, turkey, and even tuna. James will be at the market all summer, so look for Jerky James if you want a lasting snack to eat while you're lounging on the beach or at home.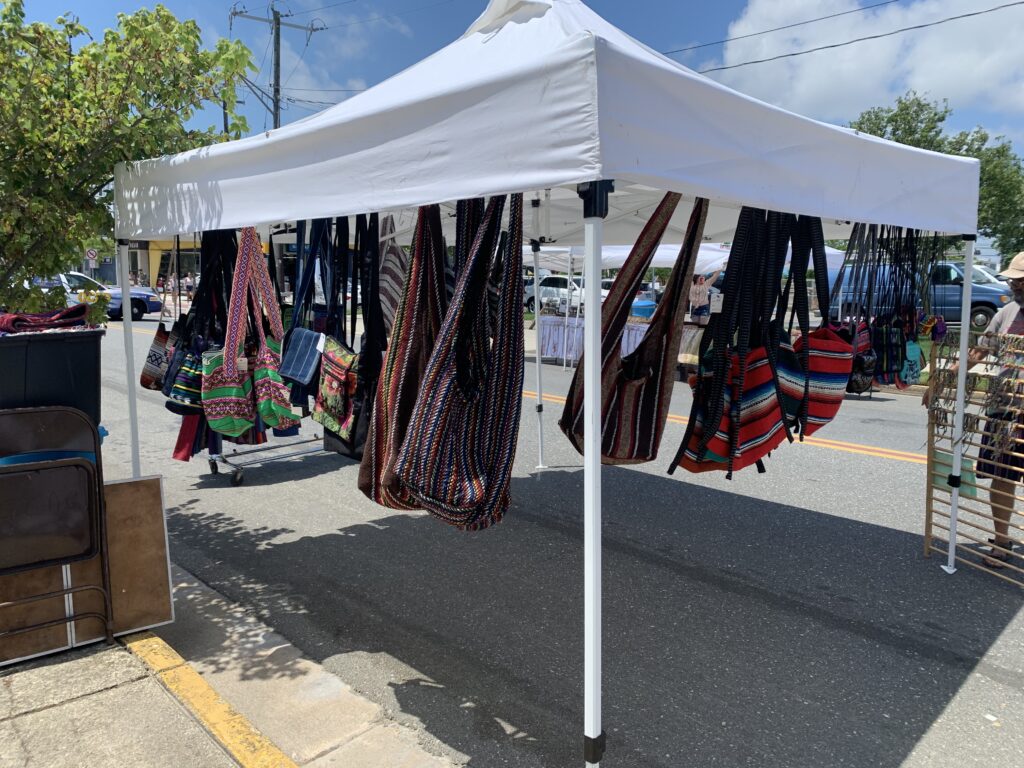 As the food vendors wrap up, there's another walk of vendors selling many handmade or locally sourced goods such as clothing, jewelry, and this year's hottest trend: masks. You can find masks of all kinds here at the market: adult sizes, kid sizes, patterns, solids, sports teams, or beach designs.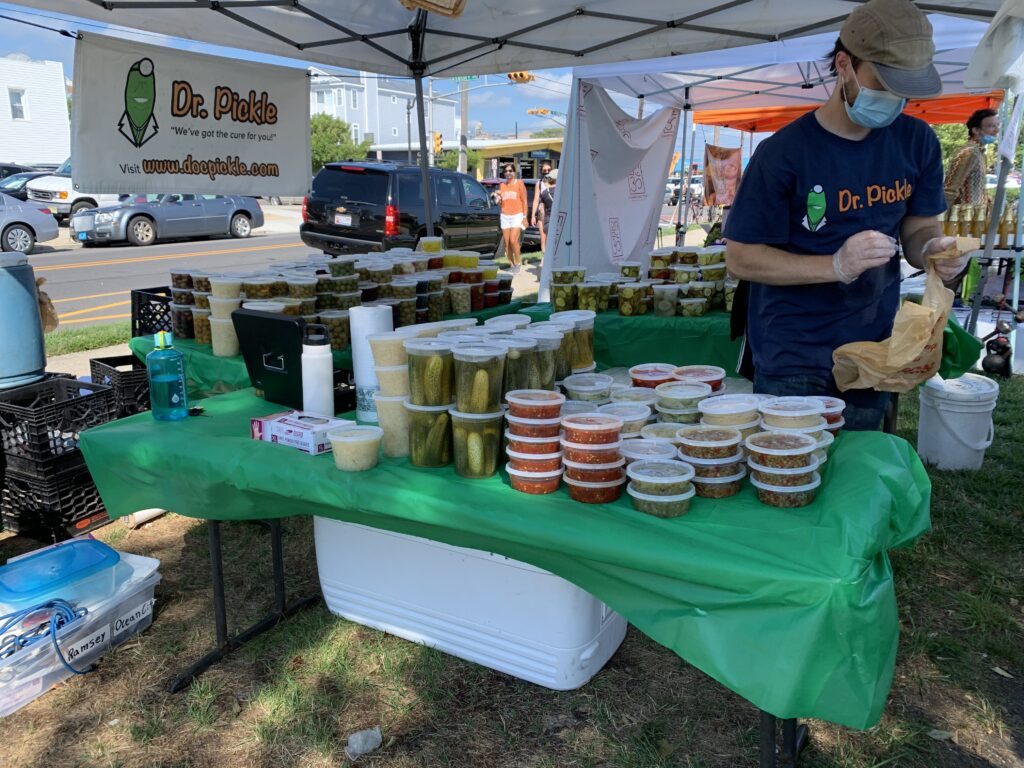 All of the food and clothes are beautiful, but the kindness of the vendors gives the market a sense of familiarity that even first-time shoppers can sense. Shopping at the Farmer's Market supports local businesses, farms, and restaurants, so you get to feel as if you're buying veggies from your own neighbors. Every Wednesday throughout the summer, Ocean City is lucky to have this special event.