Taking the Plunge on New Year's Day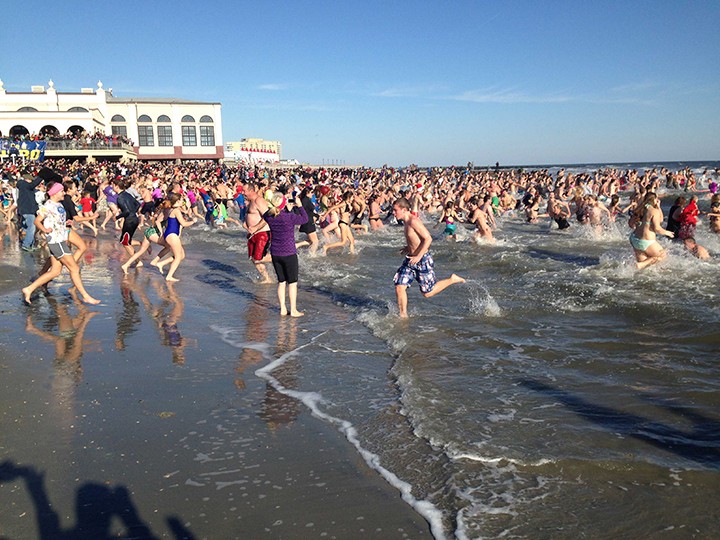 An engaged couple from Morris Plains, N.J. plan to take the plunge—literally—when they celebrate their wedding with a plunge in the ocean surf here on New Year's Day to promote designated driving.
Lindsay Conroy and Mike Feeley of Morris Plains will tie the knot at the Ocean City Yacht Club on New Year's Eve with 130 friends and family as they watch the ball drop on a giant screen, and take the leap into wedded bliss. "We're basically combining a New Year's Eve party with our wedding," noted Lindsay, co-owner of KRo Events – an event planning business in New York City.
On New Year's Day, the newlyweds—both runners and health enthusiasts–will take a second leap. They'll participate in the 5K Boardwalk run at 1 p.m., then join their wedding party for the HERO Plunge at 2 p.m. in the frigid surf next to the Ocean City Music Pier.
The plunge benefits the John R. Elliott HERO Campaign for Designated Drivers, a national non-profit organization dedicated to preventing drunk driving by promoting the use of safe and sober designated drivers. John Elliott, a graduate of the United States Naval Academy, was killed by a drunk driver in July, 2000 as he was travelling home to South Jersey for his mother's birthday.
"We wanted our wedding to be memorable," said Lindsay, who will be wearing a veil and sparkly dress for the run and plunge. Mike, a senior financial analyst at Verizon, will be wearing a tuxedo tee shirt. A non-drinker since her days as a high school swimmer," Lindsay said the HERO Campaign plunge was the perfect charity to benefit from her wedding. "I've always been the designated driver. The HERO Campaign celebrates the role of the designated driver in keeping everyone safe. They're the true life of the party.!"
In place of a brunch, the Feeleys will offer their wedding goers bagels, coffee and dry socks for the polar plunge, which hopefully will include more of the current record-setting warm weather. "We'll all be making New year's resolutions," she jokes. "Maybe coming back to Ocean City next year for our anniversary will be one of them."
The couple were engaged in Capri, Italy last June, and wanted their wedding to be near the ocean. "We traveled up and down the Jersey Shore looking for just the right location," she remembers. We settled on Ocean City because friends had recommended it and the yacht club was the perfect setting on the water," she remembers.
For more information about the HERO Campaign and how to register for the HERO Plunge, go to herocampaign.org or email at info@herocampaign.org.