Buongiorno… it's mangia time on Ninth Street at Luigi's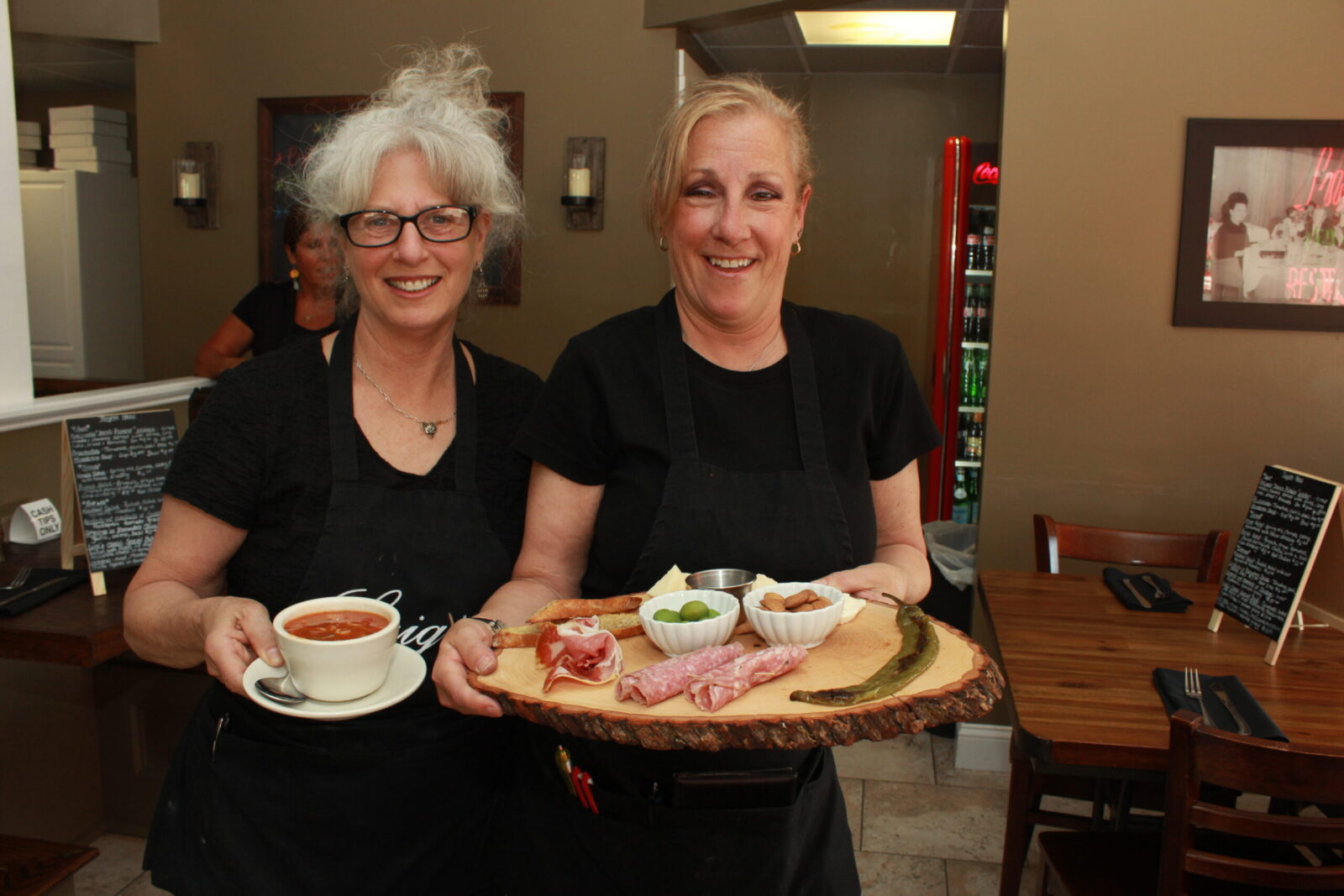 A bona fide Italian restaurant that focuses on fresh ingredients, serving meals hot out of the oven and providing a genuinely enjoyable experience – that's what I discovered at Luigi's Italian Restaurant on the corner of 9th and West in the OC. What a great find this is. As an honorary Paisan (I married an Italian girl), I know good Italian food. This is good Italian food.
Some restaurants serve Italian food. But a good Italian restaurant is a different experience altogether. Luigi's provided a truly, and I mean truly, tasty meal and enjoyable experience that left my whole crew feeling like a million bucks.
I loved the old school photos of the original owners and scenes from the old days hung on the wall. It was like a trip back to a time when everybody wore a tie to dinner. Very cool.
I admit I was uncertain what to expect as my crew shuffled in. It was me (I'm Bowser), along with Zelda Princess of Hyrule, Kirby, Mario, and Princess Peach, and we were all hungry from a rousing episode of Mario Kart. None of had been to Luigi's in a while, but we'd heard there was a new owner so we figured we'd try it out. We went in thinking it could be hit or miss.
"Swing! And a big hit down the third base line." Again, I'm a sucker for old-school nostalgia. I'm hearing Phil Rizzuto's voice narrating this in my head.
When we opened the door we found a bright, squeaky clean, modern, and totally renovated space that screamed "c'mon on in!" Actually there was no screaming. Our hostess was lovely and got us a table by the window.
"We didn't know what to expect either," said new owner Joe Babcock who, along with his wife Nancy, bought the restaurant last year and re-opened on St. Patrick's Day this year.
"The place really wasn't operating at its full potential; it wasn't running well. But back in the '80s and '90s I actually worked here and I was familiar with it so I decided to jump in. And I also sell real estate. So we came in, revamped it, painted it, cleaned it up. It's clean as a whistle now – all the lights are working, all that."
Our server Janie stopped by quickly, gave us a big friendly greeting and had waters at the table in a flash. She pointed out the specials on the chalkboard on the wall and pointed out the menus that are cleverly printed on chalkboard tablets on the table. Cute! I liked it and Janie brought a second blackboard so Zelda and I could both peruse it.
"So far I'm very impressed," said Zelda. "The interior is really clean and well appointed."
Janie brought out a board with bread and olive oil and all swooned. It came out warm and crusty with a great texture. But the underlying kicker is that the bread is house-made too! They bake it fresh every day. Woah.
There's actually a bell that rings when a table's food is ready so the servers can get it out still piping hot. Oh, I like that.
"I've known the original owners for years," said Joe. "Over there (pointing to a framed photo near the host stand) that's the original Luigi. I worked with him decades ago and over there, that's the founders, Frank and Florence Esposito. So Louis Senior took over from his parents and Louis Junior took over from his father and I worked with both of them."
For being in a modern-looking restaurant, I was tapping into the photo's mid-20th Century Italian vibe. In some remote sort of way, it reminded me of Zelda's grandmother's house in South Philly.
Janie brought out a cup of minestrone soup and an antipasto board complete with olives, unbelievably good garlic bread, three cheeses, a couple meats and we all dug in.
"I cook everything, I prep everything. And I sell real estate at the same time," said Joe. "The chicken's all fresh, the veal is fresh, everything is fresh."
And there, in a nutshell is the secret to a good restaurant; when the chef is the owner his passion often comes through in his food which is what we found at Luigi's. The truth is in the taste buds. Both Zelda and I found our dishes to be really tasty with the freshness shining through.
And of course Frank Sinatra was singing softly in the background during our meal.
"The soup, which I'm pretty sure is freshly made (it is), is fantastic and the antipasto plate is delicious," said Zelda. "I love these olives and the bread is so crispy."
The menu was not too large which I find reassuring. I don't think restaurants should try to do too much. Stick with what you do well and people will keep coming back. There was a rigatoni and sausage special on the board at a reasonable price so I jumped on that. Zelda ordered the Chicken Milanese off the regular menu and the kids ordered off the kids menu which had a few nice choices. Mario got the spaghetti and meatballs and Peach and Kirby got the chicken fingers. Kirby devoured his chicken tenders and actually ordered a second kids meal of spaghetti with butter (he's not a red sauce fan) and devoured that, too. Zelda was obviously pleased with her meal.
"I can't get over how fresh this chicken tastes. It's so juicy and tender," she said.
Joe makes everything on the menu except for the pasta which he told me is imported from Italy. Janie told us that Joe is almost fanatical in his desire to serve great food, even growing his own herbs out back so he can pick them fresh for his dishes.
And then came dessert. I don't know what it is about Italians and lemon for dessert but I like it. Janie trotted out a nice slice of JB's Lemon Loaf and Zelda and I almost came to blows over it. We should have gotten a second slice, but we worked it out.
The kids got the fresh made homemade cookie and vanilla ice cream. I felt bad that I stole some from Mario but he was ok with it and jeez, it was yummy.
What's old is new again. Quality, freshness and attention to culinary detail are in style these days and Luigi's is paying attention. Stop by.