Art on Asbury presents Shades of Purple show

Ocean City, NJ —The Ocean City Fine Arts League announces the February, "Shades of Purple" show. "Every year, we try to feature a different color," said OCFAL President, Rae Jaffe, "This year we chose purple because it represents creativity, spiritualism and good chi."
There will be a "Meet The Artist" reception and awards presentation on Friday, February 13 from 6pm-7:30pm. Light refreshments will be served. The event is free and open to the public and the show runs through the end of February.
Reminder, all artwork is for sale… For an affordable price, you can purchase a stunning original piece of artwork, created by a professional local artist. So, visit the "Arts on Asbury" Gallery where you're sure to find that perfect one-of-a-kind gift. All sales benefit your local artists.
And, we're calling all artists who see things a little differently, so start painting for next months show: "Abstract, Expressionistic or Surreal" with an Artists Reception on Friday, March 13.
In addition to the Shades of Purple paintings on display, the gallery showcases watercolor, glass, mixed media, pottery, photography, oil and acrylic, textiles, jewelry and sculpture, all made from local artisans.
For more information, call (609) 814-0308 or visit us at oceancityfineartsleague.org and like us on Facebook Located at 608 Asbury Avenue in Ocean City, the "Art on Asbury" gallery is open 7 days a week, Monday through Saturday from 10am-5pm and Sunday from 10am-4pm.
See Also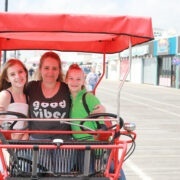 The "Art on Asbury" Gallery also sells artwork by the following local artists: Meed Barnett, Bonnie Bessor, Diane Brown, Merryl Cool, Colleen Cornell, Jane Costanza, Vince Filipelli, Sally Flanagan, Adele Haberland, Karen Haberland, Rosalie Hettenbach, Alisa Harris, Shirley Hawthorne, Linda Higbee, Francis Hughes, Rae Jaffe, Joe Kardone, Meyer Kerson, Joanne Killian, Mary Ann Kline, Wanda Kline, Lynn Kranich, Freddie Lamb, Chuck Law, Amy Mahon, Annette Maynard, Janet McShain, Donna Mindish, Donna Moore, Kathy Mott, Betsy Naumchik, Nora O'Mara, Nancy Palermo, Carmela Pallotta, Michele Pasciullo, Bernice Rappoport, Becky Riley, Sue Rau, Thelma Snyder, Deb Spinella, Mary Ellen Spruell, Ed Sweeney, Margaret Thorn, Betty Tocci, Michael Waters, Leon Wescoat & Kathy Wheatcroft.
The Ocean City Fine Arts League is a non-profit organization dedicated to creating awareness of the arts and art community. Comprised of local artists and art lovers, the "Art on Asbury" Gallery showcases watercolor, oil, acrylic, mixed media, photography, pottery, textiles, jewelry and sculptures- all made by local artists. The Gallery is located 608 Asbury Avenue in Ocean City and is open Friday, Saturday, Sunday and Monday from 10am-5pm. For more information, call (609) 814-0308 or visit oceancityfineartsleague.org. Or friend us on Facebook.