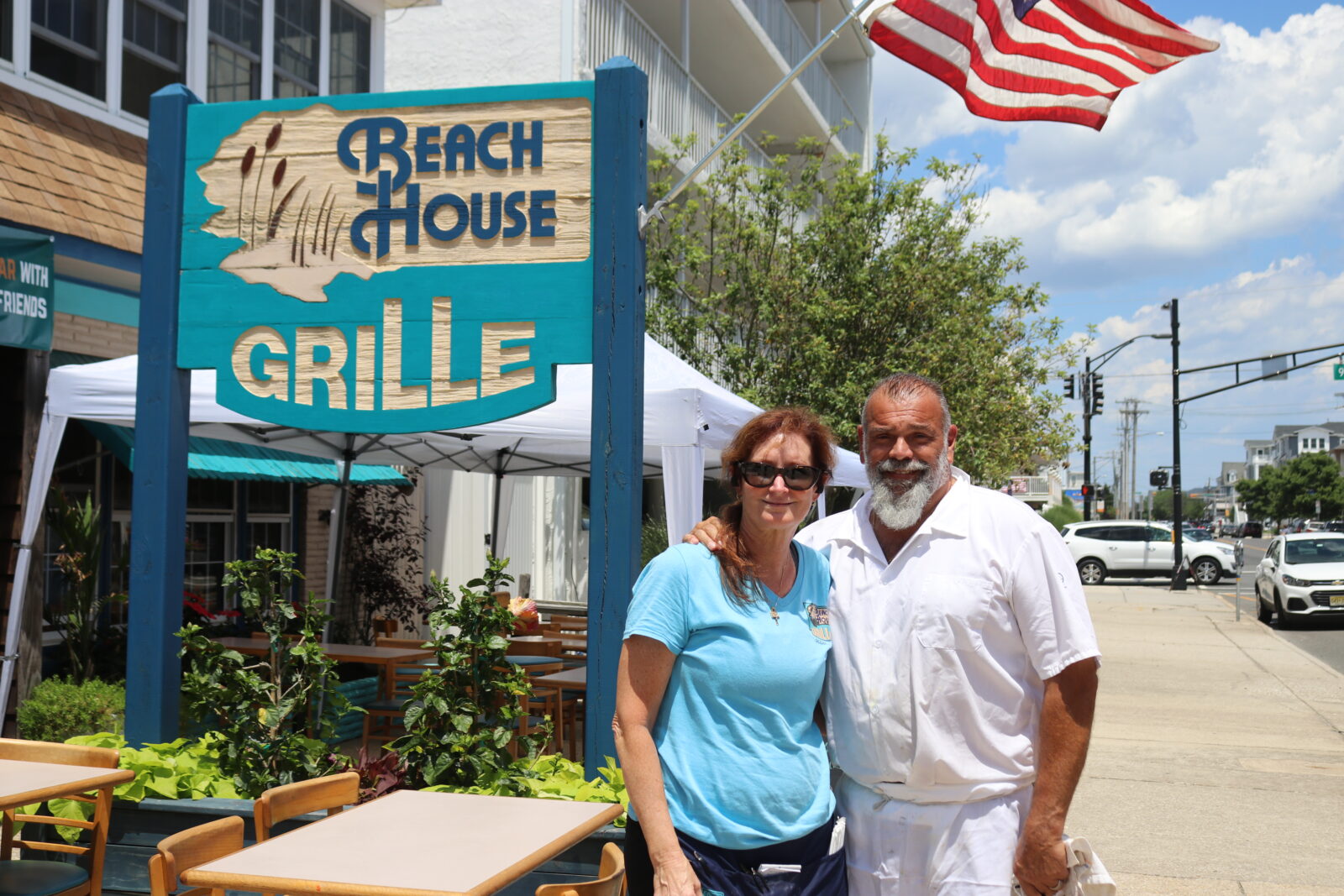 For 30 years, Beach House Grille has served up the happy
For some families, breakfast at the Beach House Grille is as much a part of an Ocean City vacation as building a sandcastle or a night at the rides.
The restaurant is open for breakfast and lunch, and if it's open, you can count on Kathy Landi being up front and her husband Paul Landi stationed behind the grill.
This is their 30th summer at a spot that prizes familiarity and comfort over innovation. Many of the family members who return year after year order the same thing on each visit, Kathy said, and little on the menu has changed over the decades.
"I wouldn't argue with that," Paul said. "It's served us well through the years. I haven't really changed much, because why mess with what works?"
When Paul and Kathy bought the business, they were already running the Varsity Inn, which they continued to operate through that summer.
"We took over in the middle of summer in 1990, which was basically insanity," Paul said.
"With two babies," added Kathy. They said when they look back now, they are amazed they got through it.
They were seated at an outside table under a pop-up shade as the last of the lunch customers finished their meals. At this point, they said, they've gotten used to three or four generations of a family coming out to breakfast on their vacation.
It is not just visitors. That table finishing their lunch are the Landi's neighbors. They talked and joked with the owners at the end of the meal and made plans to connect later that day.
"It's the best chicken salad in town. It really is," a woman leans in to say during the interview.
Paul makes up the menu and makes most of the food. He is self-effacing.
"It's nothing special. We're known for our omelets and our hotcakes," he said. "Our creamed, dry beef is a huge seller here."
While it is obviously comfort food, most people don't plan a return trip year after year for "nothing special," however. As the summer of 2020 got underway, Kathy said the restaurant received multiple calls from people who wanted to make sure they could visit the Beach House Grille.
"You hear it all the time. They can't wait to come down," Kathy said.
"It's certainly nice to hear," Paul said.
He said he does not take shortcuts.
"It's just good, basic stuff," he said. "Everything's homemade. I make all of our soups and gravies. Anything else we make is all homemade."
Kathy and Paul's three daughters are grown. Kathy said they grew up around the restaurant, which became a natural gathering place after school activities or events. Kathy said she loves the feeling of community that has grown around the restaurant.
Paul said he knew what he wanted from the start.
"It was always a dream of mine to own my own restaurant," he said, adding with a deadpan look while his eyes let you know he's joking, "Now it's not my dream anymore."
The couple have cut back some. When they first opened, the restaurant was open year-round, for breakfast, lunch and dinner.
Eventually, they were able to make the business seasonal.
"About five years ago we got to the point where we didn't have to do that anymore. That was a nice feeling," Paul said. They stopped serving dinner years before that.
"It just got to be too much with three children," Paul said.
According to Kathy, since they were not willing to let a manager run their restaurant, staying open meant they could not see their girls' games or attend school events.
"As they grew up and got into high school, that became more important than the restaurant," Paul said.
In Ocean City, breakfast is often the big meal out, with fewer options for dinner. Online reviews have given The Beach House high marks, with one person posting on a review site that it is the only place she'll eat breakfast in Ocean City.
"I think it's a Jersey Shore thing," Paul said. "Breakfast tends to be an event for families when they're down here."
"It's the same way with our employees," Kathy added. Some current summer employees now have the same job their mothers had years ago.
Paul grew up in Delaware County, Pennsylvania.
"I've always been a summer kid here."
His father was a teacher who ran a burger and ice cream place at 55th Street. He worked there from the time he was about 11, he said.
"I always wanted to do this. From a very young age. I'm not sure what the fascination was," he said. It might have been seeing his dad run the grill all those years ago.
He remembers talking with his mother about someday opening a restaurant.
"I said, 'Mom, people always got to eat.' This year proved me wrong. People have to eat, certainly, but if the governor says you're not allowed to go out and eat, so be it," he said.
The restaurant has survived hurricanes, economic changes and more, but Paul said he has never seen anything like the changes brought on by the coronavirus pandemic.
For a time, the restaurant was takeout only, but that was nowhere close to the business they usually saw in the spring. To make matters worse, the big hotels in the neighborhood were also closed due to the virus. Paul said they normally account for about 30 percent of their business.
On a sunny June afternoon when Paul and Kathy had time to talk, they said the outdoor tables have been an improvement. The inside of the restaurant was empty. Paul did not expect indoor dining to be back to full capacity before the end of summer.
The restaurant has new protocols for cleaning and disinfecting. Everything is more work this year, Paul said, and more of that has fallen to the owners.
"As business people who have been doing this forever, you just have to adjust. We've been doing more and more with less," he said. "Kathy and I are in here working harder. But that's okay. You've got to do what you've got to do."
Kathy said they steered their daughters away from taking over the business. The work is just too hard. That doesn't mean they don't love it.
"I love to cook. I love to make people happy with food. It's all the peripheral stuff," Paul said. If a freezer breaks, if an employee calls out sick, if there's an evacuation or quarantine or a leaking pipe, it's up to the owner to deal with it.
Kathy grew up in Somers Point, up until eighth grade, when her family moved to Mount Holly. The two met while attending Wesley College in Dover, Del. When they decided to marry and pursue Paul's dream, she already had a dream job, working as a buyer for Macy's in New York. She loved it, she said, but the idea of having family and connecting to a community was more important to her, she said.
"It's been wonderful. It's been good to us. It's part of who we are," Paul said, saying they have met so many friends through their work at the restaurant. "Friends we'll keep the rest of our lives."
So what's Paul's favorite menu item?
"I like my hotcakes," he said. "I make them thinner than most other places do, kind of between a thick hotcake and a crepe. People who like my hotcakes really enjoy them."